About the Concert Series
Sacred Music at All Saints Concert Series was founded in 2013 as a community outreach program of the parish Music Ministry. The annual series presents five events each season that showcase local and national performers and ensembles that specialize in classical and sacred music.
All events are free, with a free-will offering taken at the door.  Proceeds will go to support future programming for this annual series.  Visit our parish website for updated information and future concerts.
Sacred Music at All Saints Concert Series: 2023-2024 Season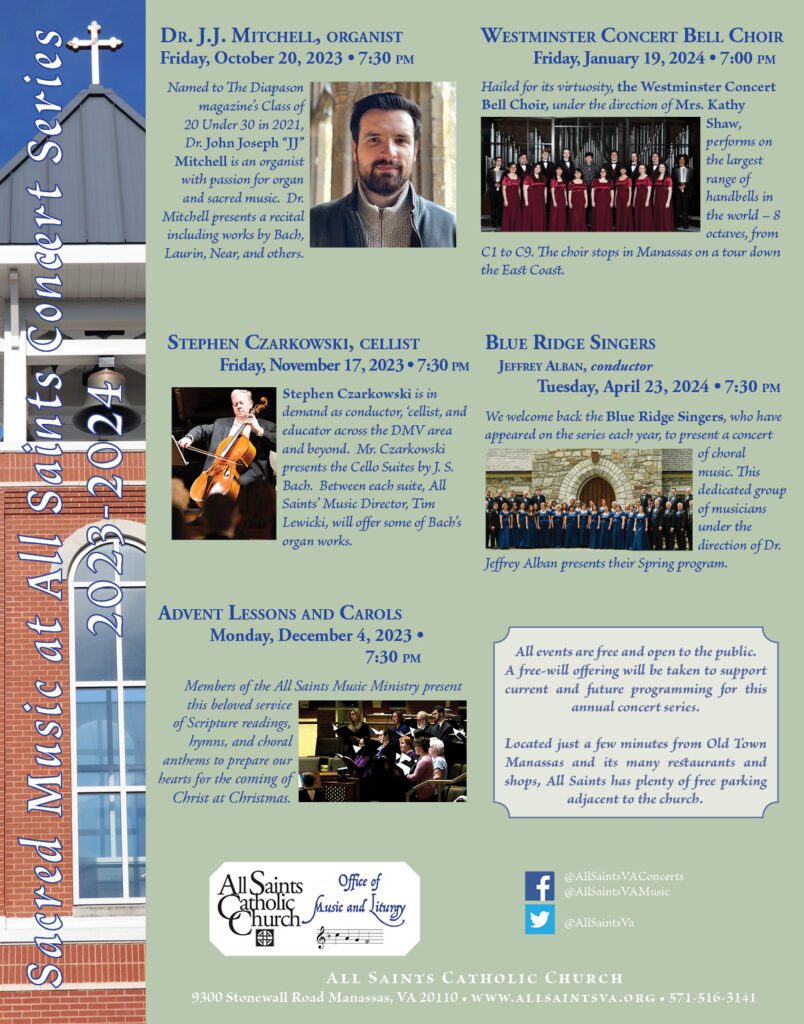 All Saints Catholic Church
The Office for Music and Liturgy
9300 Stonewall Road
Manassas, Virginia 20110
571-516-3141
---
Friends of the All Saints Concert Series
Support for this program is provided by individuals who make annual donations to the series. We invite you to help us grow through your attendance and support of these special events for our parish and local community! To join our mailing list and/or to make a donation to the series, please complete the form below or contact the Office for Music and Liturgy at 571-516-3141. Thank you for your support, prayers, and generosity!
Friends of the All Saints Concert Series donation form
---
Performing on the Series
The Office for Music and Liturgy accepts proposals for potential events for future series. Interested solo performers and ensembles are requested to submit a written proposal via e-mail containing the following information:
Name and bio of the performer or group

A brief description of the program to be presented, including music titles

Requested honorarium

Contact information

Audio samples
References and previous concert materials are also helpful but not required.
E-mail proposals can be sent to: Mr. Tim Lewicki, Director of Music and Coordinator of Liturgical Ministries, at tlewicki@allsaintsva.org. No phone calls, please.