Fall 2021 – The Sacraments
For Adult Faith Formation this fall, All Saints will be offering a 6-session video series entitled The Sacraments. This series is by Bishop Robert Barron (Archdiocese of Los Angeles). The great sacraments of the Church — Baptism, Confirmation, the Eucharist, Reconciliation, the Anointing of the Sick, Matrimony, and Holy Orders — have endured for thousands of years and structured countless lives. Everything in the Church's life comes from and returns to them. But there is far more to these ancient rites than meets the eye.
In this follow-up to The Mass, Bishop Barron looks at the great sacraments of the Church in all their theological depth, spiritual effects, and pastoral promise. The Sacraments will help you understand these signs and channels of grace and discover the secret behind their persistence down the ages: the presence and power of the Savior himself.
Our plan at All Saints is to show these episodes in the Activities Center (PAC) this fall, on Tuesdays. Deacon Brian Majewski and Fr. Lee will facilitate these sessions. This series is appropriate for adults.
Registration is necessary for all participants so that we may pre-order the materials which are used during the sessions. If a spouse attends with you, then only one registration form and fee needs to be submitted. Registrations are due no later than 4:00 PM on Friday, August 20.
Registrations received on or before August 20, will have a reduced cost of $28.00, as we preorder materials;
Registrations received after August 20 will have a cost of $33.00.
We will be meeting at 7:00 PM in the Parish Activities Center. The tentative Session Guide for The Sacraments is provided below. Information is subject to change.
Tues.. Sept. 14 – Introduction and Baptism
Tues. Sept. 21 – Confirmation
Tues. Sept. 28 – Eucharist
Tues. Oct. 5 – Reconciliation
Mon.. Oct. 18 – Anointing of the Sick
Tues. Oct. 26 – Matrimony and Holy Orders
Tues. Nov. 2 – Final follow-up (if needed)
The Sacraments (Fall 2021): Registration Form
---
Bible Study
Bible Study facilitated by Deacon Brian Majewski meets every Thursday morning from 10:00–11:00 AM in the church library. All are welcome!
Formed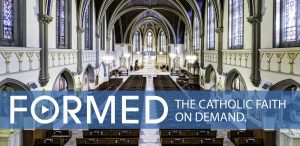 Formed.org is a vibrant Adult Faith Formation resource. New programs, movies, audio talks, and e-books are continuously being added, so please visit Formed.org and see what's new. There are now over 40 movies on the site, perfect for family movie night. Don't miss these fabulous, Catholic resources that are being provided for you by our parish subscription. You can view these over streaming internet at http://www.formed.org. Our parish access code is 16e125. Use this to set up your login credentials.
Legion of Mary
Legion of Mary meets on Tuesdays from 7:00 – 8:30 PM in the St. Joseph Room of the Activities Center. For more information, please contact allstslom@gmail.com.