Bible Study
Bible Study facilitated by Deacon Brian Majewski meets every Thursday morning from 10:00–11:00 AM in the church library. All are welcome!
Formed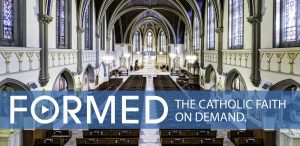 Formed.org is a vibrant Adult Faith Formation resource. New programs, movies, audio talks, and e-books are continuously being added, so please visit Formed.org and see what's new. There are now over 40 movies on the site, perfect for family movie night. Don't miss these fabulous, Catholic resources that are being provided for you by our parish subscription. You can view these over streaming internet at http://www.formed.org. Our parish access code is 16e125. Use this to set up your login credentials.
Legion of Mary
Legion of Mary meets on Tuesdays from 7:00 – 8:30 PM in the St. Joseph Room of the Activities Center. For more information, please contact allstslom@gmail.com.