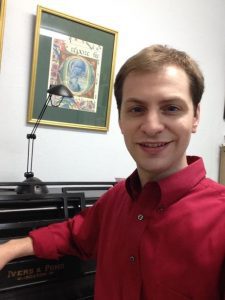 Tim Lewicki is a graduate of the Catholic University of America, earning a master's degree in sacred music in October 2013. As a student at Westminster Choir College, he had the opportunity to perform with major conductors and orchestras, including Michael Tilson Thomas and the San Francisco Symphony and Daniel Harding and the Dresden Staatskapelle.  As a member of the Westminster Concert Bell Choir, Mr. Lewicki performed with Josh Groban at the Rockefeller Center Christmas Tree Lighting and toured with the choir through the mid-West. He studied organ with Ken Cowan and Alan Morrison. After receiving his Bachelor of Music in Sacred Music, magna cum laude, in May 2011 from Westminster Choir College of Rider University, Mr. Lewicki began graduate studies at the Catholic University of America in Washington, DC.  As a graduate student, he studied choral and sacred music with Dr. Leo Nestor and pursued liturgical and theological studies with Rev. Dominic Serra and Rev. Michael Witczak.

An active member of the National Association of Pastoral Musicians, Mr. Lewicki current serves as Newsletter Editor on the Arlington Chapter Board, and has served on the Advisory Board of the Trenton, NJ, local chapter.  He is a member of the American Guild of Organists (AGO), Northern Virginia Chapter.

Mr. Lewicki is the recipient of scholarship awards from academic and professional organizations, including the MAGI Foundation at the Catholic University of America (2011), the National Association of Pastoral Musicians' Koinonia Scholarship (2010) and the Steven Warner Scholarship (2012). He has held church music positions in New Jersey and Virginia. Tim currently serves as Director of Music and Coordinator of Liturgical Ministries at All Saints Catholic Church in Manassas, VA, where he oversees a vibrant music program including several singing ensembles and one handbell choir involving parishioners of all ages. He and his wife reside in Alexandria, VA. 
---
Cathy Drummond, Contemporary Choir Director, started her involvement in church music by playing guitar in the folk masses at St. Bernadette Catholic Church in Springfield, VA after being self-taught on the instrument in sixth grade. She holds a degree in Music Therapy from the University of Minnesota, Minneapolis, where she studied under Dr. Judith Jellison. During college, she was an active member in the music ministry at the Newman Center. She also studied under Dr. Helen Bonny at The Catholic University of America in Washington, D.C. Her internship was completed at the University Hospital Schools in Iowa City, IA. Cathy holds National Board certification in Music Therapy as well as a Virginia Professional Teaching certificate in Music Education for Pre-K through grade 12. Hal Leonard Corporation has named her a Music Express Star Teacher, and in this capacity she has traveled the Mid-Atlantic region giving teacher workshops.
Joining the All Saints Catholic Church community in 1987, she has continued to serve in many ways. Past positions include: the Music Teacher for All Saints Catholic School, the Director of the Young People's Choir, a founding teacher for the Special Education program for Religious Education, and an active member of the Contemporary Choir playing guitar, flute and voice. In the summertime, she has been involved with the Upper Room Theatre Ministry here at All Saints since it began in 2002, serving as the Music Director and Conductor for the Orchestra since 2005. She currently works as a Baptism Coordinator and is the Director and Singing Instructor for Broadway Spotlight, a Musical Theater summer camp, which has programs in two locations. In her present position as the Music Teacher at Round Elementary School in Manassas, she was selected as Teacher of the Year for 2014, and was a nominee for the Grammy Music Educator Award.
---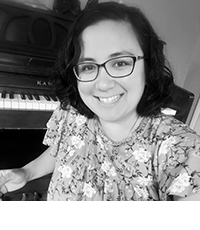 Nichole Reynolds is no stranger to the music ministry at All Saints. At age eight, she joined the parish Young People's Choir, and is now delighted to be the director of the same choir where it all began! Nichole also founded and directed the Life Teen Music Ministry at All Saints in 2004, and has worked as an accompanist and cantor for the parish since she was fourteen years old. She served as the All Saints Catholic School music teacher for many years teaching music to grades K-8, where she served as the director of the school choir (Schola).
Nichole graduated Magna Cum Laude with a Bachelor of Music in Vocal Performance from George Mason University in 2007, and a Master of Music in Vocal Performance in 2011. She was also involved in the Catholic Campus Ministry at GMU, where she served as Student Campus Minister for two years, and volunteered her time with the music ministry. Nichole has also been involved with All Saints own Upper Room Theater Ministry's annual musical productions. Nichole and her husband, Paul, and their three children live in Fauquier County, where she is the music teacher at Claude Thompson Elementary School.
---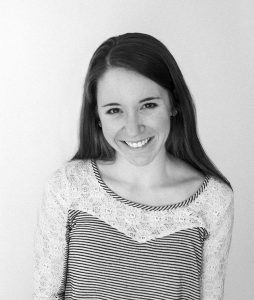 Laura Loker, Teen Choir Director, has been involved in liturgical music since she herself was a teen, beginning as an accompanist at St. Philip's in 2007. She played at St. Robert Bellarmine Chapel at George Mason University in Fairfax, VA for all four years she attended the school, and upon graduating returned to play at St. Philip's. Outside of Sunday Masses, she also plays for weddings, orchestra pits (including Upper Room Theatre Ministry's production of Peter Pan), auditions, and other liturgical services.
Laura graduated from George Mason University in 2013 with a Bachelor of Science in economics and minors in English and computer science. During her time at Mason, she published a paper on the origin of perfect pitch, for which she was awarded a scholarship from the university and that she later presented at a Virginia research conference. Heavily involved in Mason's Catholic Campus Ministry, she led a ministry team of 50 students, the pro-life ministry, and her own small group Bible study. Following graduation, she co-taught St. Philip's RCIA class with several other volunteers. Laura lives in Arlington with her husband, Kevin, and is a parishioner of St. Charles Borromeo.