All Saints is a large, vibrant parish offering many opportunities for you to get involved in the life of our community. We invite you to prayerfully consider how you can share your time and talents to assist in building God's kingdom.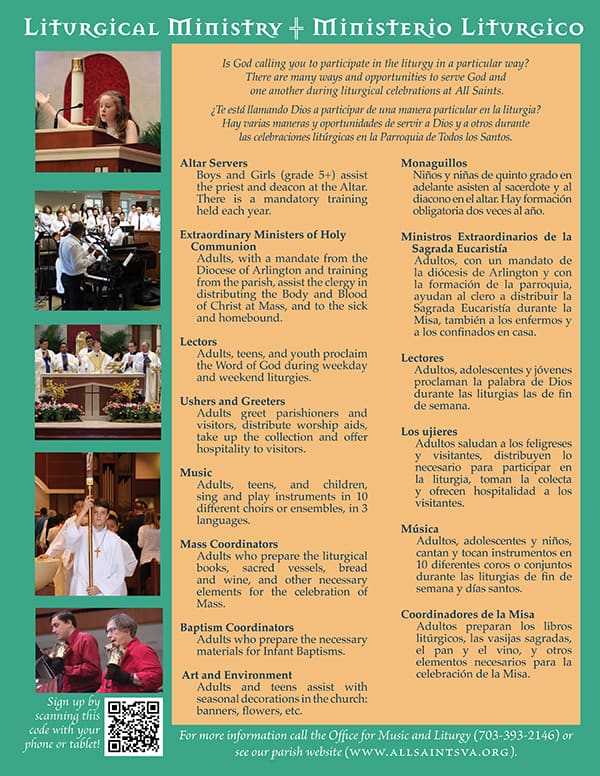 ---
Liturgical Ministry
Please contact Tim Lewicki, Director of Music and Liturgy, at tlewicki@allsaintsva.org to learn more about becoming involved as an:
Altar Server

Eucharistic Minister

Lector

Usher
---
Eucharistic Adoration
During Eucharistic Adoration, parishioners unite in sharing hours of adoration before the Blessed Sacrament throughout the day and evening. Please consider taking one hour before the Blessed Sacrament exposed for public prayer in the chapel.
---
Jail Ministry
---
Music Ministry
Parish Choir – Director by Tim Lewicki, the Parish Choir sings at the 11:30 AM Mass each Sunday, Christmas Midnight Mass, the Great Easter Vigil, and other feast days and special liturgies throughout the year. The Choir's repertoire covers the entire range of traditional Catholic liturgical music. Rehearsals are Thursday evenings from 7:30-9:00 PM. For more information, please contact Tim Lewicki at (703) 393-2146 or tlewicki@allsaintsva.org.
Contemporary Choir

– Directed by Cathy Drummond, the Contemporary Choir sings on Saturday evenings at the 5:30 PM Mass, Christmas, Good Friday, Easter, and other feast days. The Choir offers a mixture of contemporary Catholic styles with piano and guitar accompaniment. Rehearsals are on Wednesday evenings, 7:30-9:00 PM. For more information, please contact Cathy Drummond at 

cjsdrummond@gmail.com.
Coros Hispanos – Los dos Coros Hispanos invitan cordialmente a todas las personas que desean cantar en español  o que puedan tocar instrumentos musicales. Por favor vengan a hablar con el director del coro después de la misa de la 1:30 p.m. o de la 7:00 p.m. cada domingo.
Handbell Choir: Resounding Joy – Directed by Kathryn Moore, the Handbell Choir is looking for adults interested in this unique way of praising God and adding a special touch to our liturgies. No musical experience necessary. We will provide all the knowledge needed to participate. Rehearsals are held on Wednesday evenings from 7:30-9:00 PM. The Handbell Choir plays once a month at Mass and on special occasions. For more information, please contact Kathyrn Moore at kathrynmoore3@verizon.net.
Teen Choir

– Directed by Laura Loker, t

he Teen Music Choir provides a mix of contemporary Christian worship songs and traditional Catholic liturgical music at the Sunday 5:30 PM. Teen Mass during the youth group year. The music group practices at 4:30 PM in the Church before Mass. Those of high school age and above are welcome to join! For more information, please contact Laura Loker at lauramloker@gmail.com.
Young People's Choir – Directed by Nichole Reynolds, the Young People's Choir sings at the 9:30 AM Mass every 2nd and 4th Sunday from October to June. The choir rehearses from 5:00 – 6:00 PM every Wednesday, and meets at 8:45 AM before each Mass they sing. Children in grades 3-8 from all schools as well as home-schooled are invited. For more information, please contact Nichole Reynolds at nreynolds@allsaintsva.org.
---
Religious Education
Volunteering with the Religious Education (RE) program is a wonderful way to share your gifts with the parish community. Listed below are the areas of need. To volunteer or for more information, please contact Samantha Welsh, Director of Religious Education, at (703) 393-2142 or swelsh@allsaintsva.org..
Sunday, 5:00 PM – Office Volunteer, Catechists for 3rd and 4th grade
Monday, 6:30 PM – Catechists for 4th, 6th, 7th grades and high school, Classroom Assistants
Tuesday, 5:30 PM – Office Volunteer, Catechists for Kindergarten, 1st and 6th grades, Classroom Assistants
Wednesday, 6:30 PM – Catechists for 3rd, 4th, 5th,6th and 7th grades, Classroom Assistants
Saturday, 10:00 AM – Catechists for the Special Religious Education Program (SPRED)
---
Youth Ministry
---
Parish Festival
All Saints sponsors an annual Parish Festival each spring. Please contact Linda Gaynord at lgaynord@allsaintsva.org for information about volunteering to become part of the Parish Festival committee.
Note: Volunteers who work with children or youth need to meet the requirements of the Protection of God's Children program requirements.
---