Mass Schedule
Saturday: 5:30 PM (Vigil Mass – English)
Sunday (English): 7:30 AM, 9:30, 11:30 AM,* 5:30 PM
Sunday (Español): 1:30 PM,* 3:30, 7:00 PM
*The 11:30 AM (English) and 1:30 PM (Spanish) Masses are livestreamed each Sunday on the All Saints Parish Facebook page and YouTube channel. Recordings remain available after Mass.
Learn more about the Catholic faith.
See our Lenten Schedule of liturgies and activities and our Holy Week/Easter schedule.
Tuesday, March 28:
Due to the diocesan 8th grade vocations Mass at All Saints, the 8:30 AM morning Mass will be changed to 8:00 AM.
Daily Mass Schedule
Monday – Friday: 7:00 & 8:30 AM
Saturday: 8:00 AM
First Friday
Confession – After 7:30 AM Mass
Confession – 7:00 PM
Mass in Spanish – 8:00 PM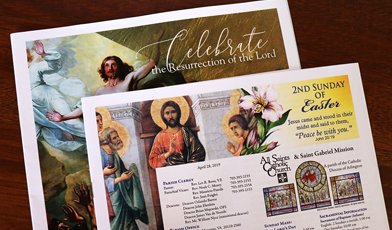 Weekly Bulletins
SEE BULLETIN >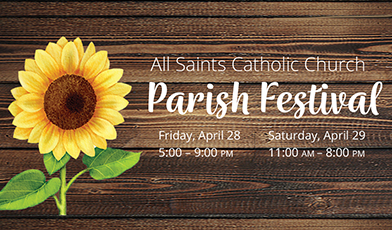 2023 Parish Festival
Welcome back to the All Saints' Parish Festival!

The 2023 Parish Festival will be held on Friday – Saturday, April 28-29, 2023.
Volunteers Needed: Volunteers are needed to support the games, entertainment, White Elephant sale, silent auction, bake shop, book sale, food sales, and more. This event is a lot of fun and a great way to get involved in parish life. Individuals and families are encouraged to volunteer.  This is a great opportunity if your teen needs service hours.
Donations Needed: We are also looking for donations of game prizes, gift baskets, baked goods, cakes, and items for  our White Elephant Sale, book sale, and silent auction.
Signup to Volunteer/Donate below:
– Donate Baked Goods, Cakes, Gift Baskets, Game Prizes
– Volunteer for White Elephant Sale, Book Fair
– Volunteer for Games, Bake Shop, Book Sale – Friday
– Volunteer for Games, Bake Shop, Book Sale – Saturday
You can find a complete list of opportunities to get involved on our 2023 Parish Festival page.  For questions regarding volunteer opportunities, please contact Linda Gaynord at 571-516-3140 or lgaynord@allsaintsva.org.
Learn More >

Get Your Car Raffle Tickets!
All Saints Car Raffle Tickets
Raffle tickets for our 26th Annual Car Raffle can be purchased through our Parish Office until Thursday April 27th (see Parish Office hours). Proceeds will continue to help to pay for our church and Parish Activities Center.
You may also purchase tickets until April 25, by sending a check for $5.00 per ticket (i.e. 10 tickets @$5.00 = $50.00).  Include the name, address and phone number that you want on each of the tickets (or if you have address labels, please include enough for each ticket).  We will fill out the tickets and enter them.  You don't need the stub but if you want it (them), include a self addressed stamped envelope.  Must be received by April 25th for guaranteed entry. Checks should be made payable to All Saints Catholic Church. Our mailing address is: All Saints Catholic Church, Attn: Car Raffle,  9300 Stonewall Road, Manassas, VA  20110. Thank you!
Learn More >
Welcome to All Saints Catholic Church
Become a part of our vibrant, faith-filled community.
All Saints Catholic Church is an ever-changing and evolving community, steeped in a rich history and diverse culture. We are dedicated, hard-working families and individuals from virtually every walk of life.
We are disciples of the Lord Jesus. By virtue of our baptism, we live our Catholic faith and are God's voice calling out to others. We celebrate the Eucharist and Sacraments, live out the scriptures in service to our neighbors, and are faithful to Church teachings.
We are called to keep our faith vibrant and to pass on the faith for all generations to come, that we may bring others closer to Christ and continue building the kingdom of God.
"Every baptized person has received the vocation to proclaim — to proclaim something to proclaim Jesus — the vocation and mission to evangelize: to proclaim Jesus." — Pope Francis
Latest News
View All News >

Online Giving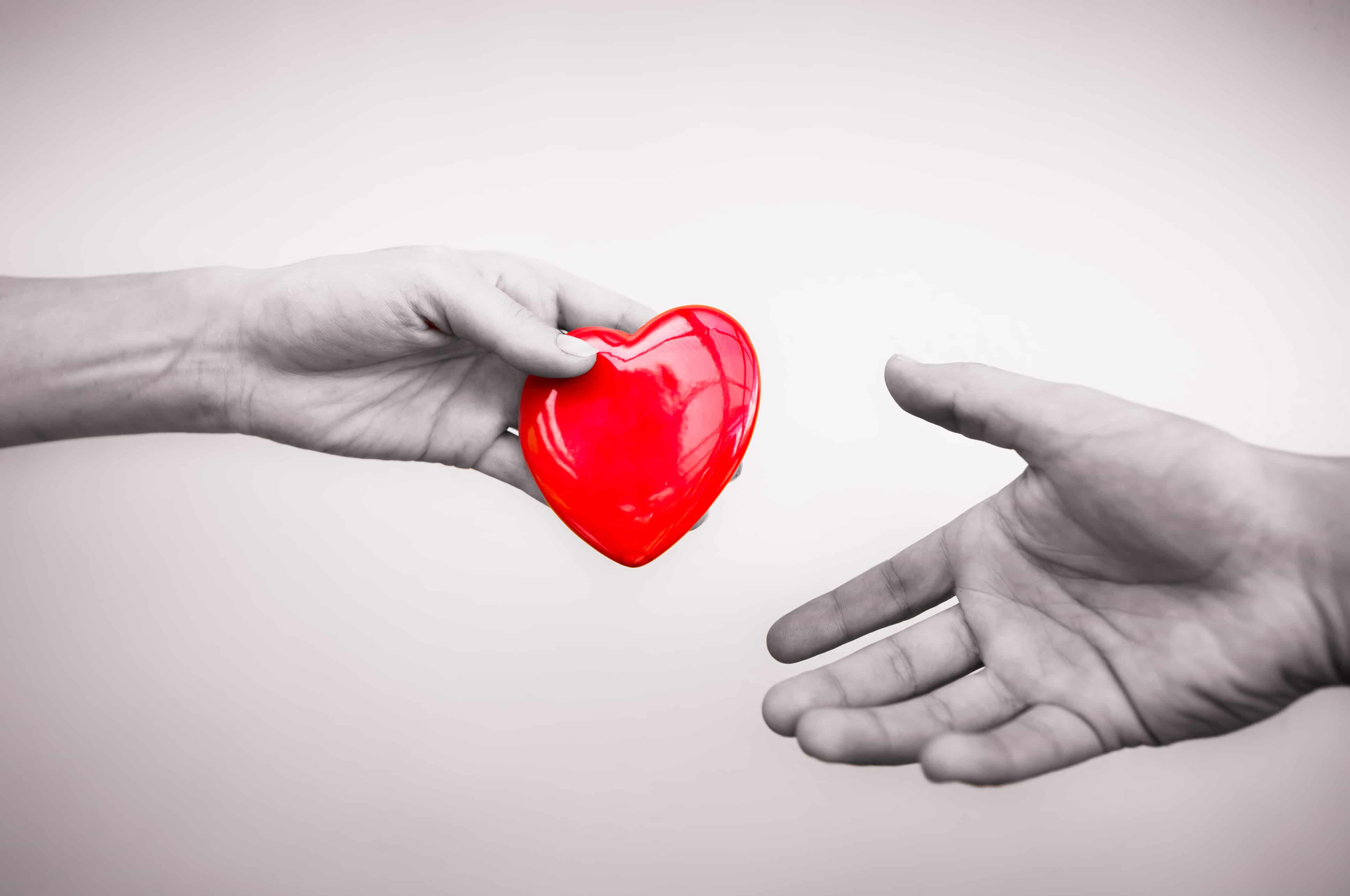 Looking for an easy way to make Sunday collections, donations, etc. online?
Click the "Parish Giving logo" below to get started—it's safe and secure. Sign-up, choose automatic payments, or just make a one-time payment.