Please do not be late to Mass. Note that your reservation will be held until Mass begins. If the Mass has a large number of reservations, then once Mass begins, we will admit anyone who is waiting without a reservation and seat them, maintaining social distancing. If someone arrives late, then you may have to stand along the wall or in the narthex, depending on the capacity constraints.
Note: The parish office is not open over the weekend. Telephone calls received after 4:00 pm on Friday are not received until Monday morning.
---
We are now using the Signup feature of our Flocknote email and texting communications platform for Mass reservations. Note that you need not have subscribed to any Flocknote group to make a reservation.  Please be patient with the office staff as we make this transition.
Due to the need to produce the reservation lists for the ushers, please note that we close reservations each week per the following:
Saturday evening Mass reservations close at 12:30 PM on Saturday
Sunday Mass reservations close at 6:30 PM on Saturday
---
General Seating Reservations
Please remember to wear a mask to church. There are exceptions for medical conditions. We recommend that you arrive with adequate time before Mass begins, so that you may find seats for your family/household to sit together. Thank you!
The links may change from week-to-week, so please always start from this web page.

---
Liturgical Ministers
For those assigned in liturgical ministries for a particular Mass, please sign up below.


---
Mass Reservations
Step-by-Step Instructions
Mass reservations are released on Wednesdays at 1:00 PM and then again at 7:00 PM. The reason for the two releases is two-fold:
Those who need assistance from the parish office to place a reservation may call during the daytime until 4:00 PM on Wednesday.
The release of additional seats is to assist those who work, do not have internet access during the work day, and have to wait until they come home in the evening.
Step 1. When you go to the link, you will see booking list for particular Masses.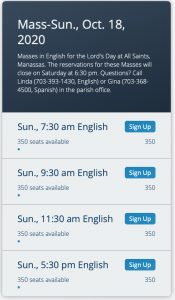 Step 2. Click on the blue "Sign up" button for the Mass for which you would like to attend.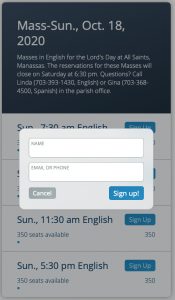 You will see a screen where you are to enter your name (first and last names required) and either an email address OR a phone number (preferably a cell phone number). If you enter an email address, when the reservation is accepted, you will receive a confirmation receipt via email. Currently, the system cannot send confirmation text messages via a cell phone.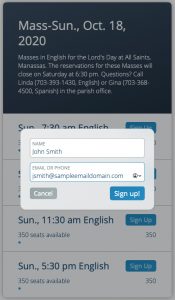 Click on the blue "Sign up!" button.
Step 3. A blue fly-out menu will appear asking "How many people are coming?" Pull down the menu to select the number of people for whom you need to reserve spots.
Note that you may only include people who live in your own household. Due to physical distancing requirements, no one from outside of your household may be included on the same booking. Note: if you have more than 10 individuals in your household, you will need to make a second reservation for the remaining people.
Every person counts. Note: All people (adults or children) must be counted as separate individuals when making the reservation.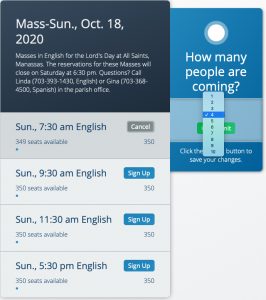 Step. 4. Click the green "Submit" button to save your changes.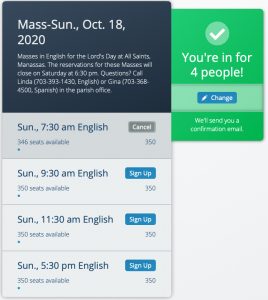 Step. 5. If you have entered an email address, a confirmation email will be sent to you.
Step 6. Admission to the Church. What confirmation of your reservation will you need to bring to the church? Please bring one of the following: (1) a printed copy of your confirmation receipt, or (2) the confirmation email on your cell phone or tablet. The ushers will have a name list of confirmed reservations, but may ask to view your receipt if there are any questions.
Step 7. Cancelations.  If you decide that you will not be attending Mass after making a reservation, please cancel your reservation using the link in your confirmation email. This will allow someone else to have the opportunity to attend Mass.
Special Notes:
If you need to call the parish office for assistance, please ask for Linda Gaynord (703-393-1430). Note that the parish office is open Monday – Friday, 9:00 AM–12:00 PM and 1:00-4:00 PM. Due to the volume of calls, please be patient.
All seats taken? If all of the seats are taken and you cannot make a reservation, please send an email to parishoffice@allsaintsva.org, with the subject line "Mass Reservation." In the body of the email, include your name, # of seats requested, and the preferred Mass time. While we will not be able to honor your request, this will give us a sense of the demand for Mass reservations and can assist us in future planning.