Please join us throughout Holy Week as we gather together during this sacred time to experience Christ's redeeming love.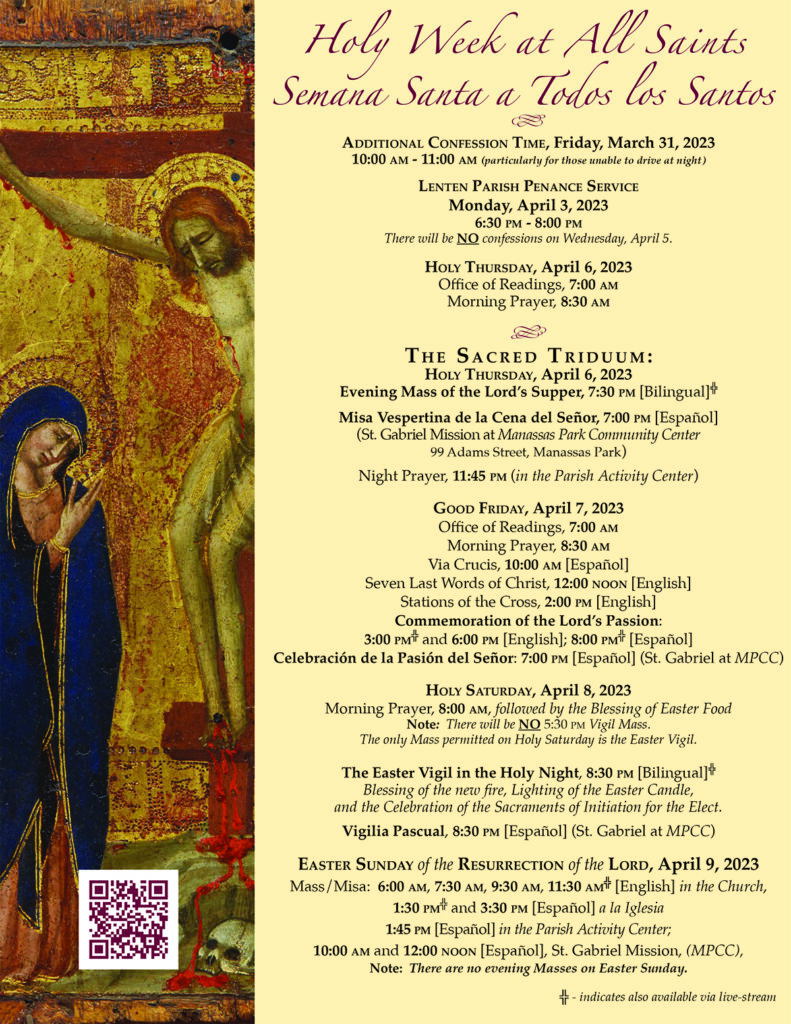 ---
Join All Saints this Lenten Season
As we enter the Lenten season, we are reminded of God's invitation to journey with Jesus through this time of prayer, fasting, and almsgiving. As the prophet Joel reminds us: Even now, says the LORD, return to me with your whole heart.  [Joel 2:12]
Lent is an ideal time to rekindle your spiritual life. We invite you to participate in the events below and draw close to God throughout this Lenten season.
---
Morning Prayer in the Chapel

Monday – Friday, 8:00 AM

Join us in All Saints chapel for Morning Prayer at 8:00 AM, in between the morning Masses at 7:00 and 8:30 AM.

---

Lenten Soup Supper

Wednesdays in March, 5-7:00 PM

Gather together as a parish community to share a simple meal of soup, bread, rolls, crackers, peanut butter and jelly sandwiches, coffee, tea, and lemonade. Supper is free; donations will benefit a charitable organization each week.

---

Stations of the Cross

Friday Evenings – March 3, 10, 17, 24

Join All Saints for Stations of the Cross on Friday, March 3, March 10, March 17, and March 24 in English at 7:00 PM and in Spanish following the 8:00 PM Friday evening Mass). Adoration will follow the Spanish Stations of the Cross at approximately 9:15 PM.

---

Wednesday/Saturday Confession

All Saints Catholic Church

The light is on for you. Celebrate the Sacrament of Reconciliation on Wednesdays from 6:30 – 8:00 PM and Saturdays from 3:00 – 4:00 PM.

---

First Friday Devotion

Confession & Evening Mass
Friday, March 4 at 8:00 PM

First Friday Mass and Confession at All Saints on Friday, March 4. All Saints will celebrate First Friday Mass in Spanish at 8:00 PM.

---

"Come Walk with Him" Holy Hour

Wednesday, March 15 at 7:00 PM

Join All Saints for the "Come Walk with Him" Holy Hour featuring beautiful meditations sung by Irish Tenor Mark Forrest on March 15 in the church. Confession will be available.

---

Bilingual Living Stations

Friday, March 31 at 7:00 PM

All Saints Youth Ministry presents the powerful Bilingual Living Stations in the church on Friday, March 31 at 7:00 PM. This prayerful experience is a perfect lead-in to Holy Week.

---

Lenten Penance Service

Monday, April 3, 6:30-8:00 PM

All Saints will also offer a Lenten Penance Service with additional priests on April 3, from 6:30-8:00 PM. For those unable to drive at night, we will offer Confession on Friday, March 31 from 10:00-11:00 AM.

---

Friday Evening Fish Fry

February 24, March 3, 10, 24, 31
(5:00-7:30 PM)

The George Brent Council of the Knights of Columbus will host a Fish Fry in the Knights Hall (behind the school). Entrees include fish dinner, shrimp dinner, macaroni & cheese, or a kid's grilled cheese. All come with hush puppies, green beans, and coleslaw. See georgebrent.net for pricing and details.