The Nativity of the Lord – Christmas 2020
La Natividad del Señor
Reservations to attend Mass on Christmas Eve and Christmas will go live on Tuesday, December 8, 2020. Due to Covid-19 restrictions, you must make a reservation in order to attend Mass. Please note All Saints' Christmas Mass schedule below: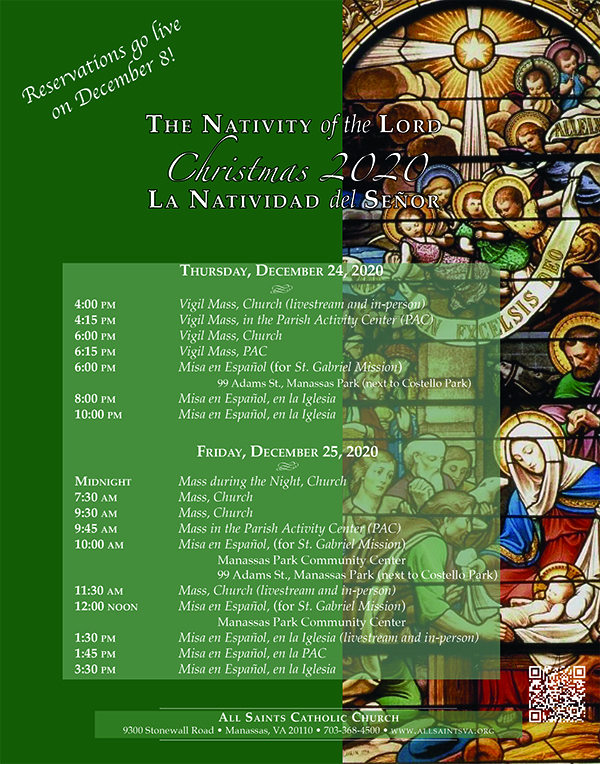 Christmas Mass Schedule – 2020 (pdf)

Directives for Phase III Reopening
Phase III of re-entry began July 1st. Note that this did not change the number of people that can be seated in the church. Our limiting factor currently is the social distancing that is required.  Even though there is no capacity percentage limit in place, the social distancing requirement is what limits the number of people who may be admitted.
Pandemic Health Precautions
The Catholic Diocese of Arlington has issued amended directives, based on Governor Northam's Executive Order 67 (November 13, 2020). The items that affect Mass attendance (Religious Services) are:
(Revision) Individuals attending "religious services" must be seated at least six feet apart at all times and must practice physical distancing at all times. Family members may be seated together.
Face Coverings · (Revision) All persons aged 5 and older are expected to wear a face covering in accordance with the revised Executive Orders 63 & 67.
---
Making a Mass Reservation
Step One:
Review Directives – It is important that you review the list of Directives for Phase III Re-opening (English) / Directivas para la Fase III Reapertura de Misas (español) prior to making your reservation.
Step Two:
Make your Reservation – You must make a reservation to attend Saturday/Sunday Mass. No one will be admitted to the church for Mass without a reservation.
If you have Internet access, use the link that will be provided below on December 8th to access the reservation system and book your reservation for Mass. Note, if you do not have Internet access, you may call Linda Gaynord at the parish office (703-393-1430) and she will make a reservation for you.
Please remember to wear a mask to church. There are exceptions for medical conditions.  We recommend that you arrive with adequate time before Mass begins, so that you may find seats for your family/household to sit together. Thank you!
---
en español
Nueva Información de las Precauciones de Salud (18-Nov-2020)
La Diócesis de Arlington actualizó algunas directrices basadas en la Orden Ejecutiva 67 dictada por el Gobernador Northam (13 de noviembre de 2020). Las directrices que afectan la asistencia a la Santa Misa (Servicios Religiosos) son:
(Revisión) Todas las personas que asistan a "servicios religiosos" deben sentarse con una distancia de al menos 6 pies y mantener esa distancia durante todo el tiempo. Los familiares se pueden sentar juntos.
Coberturas de cara: (Revisión). Todas las personas mayores de 5 años deben usar cobertura de cara según las revisiones a las Órdenes Ejecutivas 63 & 67.
Tenga en cuenta que el sistema de reservas de Mass no abre hasta los miércoles a la 1:00 PM.
La fase III de reingreso comenzó el 1 de julio. Tenga en cuenta que esto no cambia el número de personas que pueden sentarse en la iglesia. Nuestro factor limitante actualmente es el distanciamiento social que se requiere.  A pesar de que no existe un límite porcentual de capacidad, el requisito de distanciamiento social es lo que limita el número de personas que pueden ser admitidas.
Para asistir a la misa debe hacer una reservación.
Si desea asistir a Misa, tenga en cuenta los siguientes pasos para hacer su reservación:
Paso uno:
Revisar Directivas – Es importante que revise la lista de Directivas para la Reapertura de Fase III (inglés) / Directivas para la Fase III Reapertura de Misas (español) antes de hacer su reservación.
Paso dos:
Haga su reservación – Debe hacer una reservación para asistir a la misa del sábado o domingo. Nadie será admitido en la iglesia para la misa sin reservación.
Si tiene acceso a internet, utilice los enlaces proporcionados para acceder al sistema de reservas y reserve su puesto para la Misa. Nota, si no tiene acceso a Internet, puede llamar a Linda Gaynord en la oficina parroquial (703-393-1430) y ella hará una reservación para usted.
Por favor, recuerde llevar su mascarilla puesta para entrar a la iglesia. Hay excepciones para las condiciones médicas. Le recomendamos que llegue con tiempo adecuado antes de que comience la misa, para que pueda encontrar asientos para que su familia y que se siente juntos. ¡Muchas gracias!